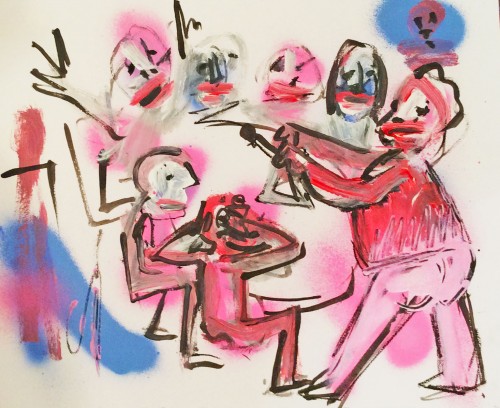 The Sly fox sends Mos Def off with words of advice:  "Say hello to your mother" is his joke.  It is from when Mark Wahlberg said hello to a chicken and and egg  on Saturday Night Live and says hey "say hello to your mother" and reminds Nos of the Paul Simon song  borne of a soup from a Chinese Restaurant:  The mother and child reunion.  And didn't he call her chicken and he was the weasel chasing her about the barn, or bedroom.  Oh to be young and free and dumb.
On the ward they encourage you to attend daily work groups in the common room.  These appear to be more for controlling the group than doing any actual real therapy, but sometimes the conversations allow patients to do some hard work with each other… And probably this group dynamic is what makes behavorial psychologist cream their pants, but it leads to a sort of resentment among some of the more adept and empathetic patients.
Jeffey is spending hours a day with Michelle ma Belle.  No one knows what's wrong with her.  She is withdrawn and morbidly depressed.  She cries at the drop of a dime.  She is terrified of most of the patients and staff…. particularly the men.  I begin to think she was molested.  I think she is Hatian or West African because she speaks French with me when I am with Jeffey… when I am alone she won't talk to me.  Jeffey has become her on call therapist and alone at night in the room he is given to ranting about why isn't he paid by the ward since he is doing the doctor's and nurse's work for them when It comes to Michelle Ma Belle.  He uses this feeling of entitlment as a excuse to blow off the suggested… but you are clearly scored on how you participate in groups… it is probably quite hard to get off the ward without doing the gourp work.  But Jeffey has had enough and who can blame him.
Todays group is about sound and healing and is done by one of those reiki types.  She is about four hundred pounds – morbidly obese and the first thought in my mind is "musician heal thyself."
She plays some new age music whose sound scapes are so clearly inspired by late betles and brian Wilson with a soupcon of Eno, but no one wanted to pay for the rights to the originals and instead we now have pale, derivative imitations and the enormous woman goes about ringing gongs and tuning forks and putting the vibrations to you.  The real sounds are fairly amazing if you can get past the New Age Muzak and then she does Rieki on me and I vibrate like Linda Blair possessed.
I freak out Ronald with his Christianity and his OCD
Then we go have lunch.