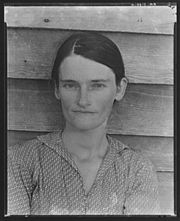 Carbon and Silver is a small show of Walker Evans' 1935-36 photographs at the UBS gallery in New York. The purpose of this exhibit is to compare printing technologies. It focuses primarily on ink-jet prints in relation to gelatin silver prints, with a small sample of books side by side with their digitally printed counterparts, revealing how lithography literally pales next to the crispness of the digital.
The show invites meditations on the "authenticity" of reproductions, especially in a medium such as photography, in itself based upon printing technology. In this show it is quite difficult to discern the original from the copy, and one questions, as Baudrillard would have it, to which point the copy has come to replace the original.

Most of the prints exhibited at the UBS belong to Evans' body of work documenting the effect of the Great Depression on rural families for the Farm Security Administration in 1935-36. As a photographer, he was not particularly interested in producing his own prints as his main interest was to record information. These photographs were originally printed by the FSA as visual evidence reinforcing the New Deal.
Evans' own interpretation of them appeared in American Photographs, the book that accompanied his exhibition at the Museum of Modern art (the first one-man photography show ever mounted by a major museum.) John T. Hill says in this exhibition's catalogue that Evans "scrupulously controlled corrections of the printing plates, and using this process as an extension of his darkroom became a habit." The interesting thing is that he understood that the book has a permanence that the exhibition does not.
Evans' photographs have such crispness that they lend themselves to reproduction, even when the print is less than perfect. As a master of his medium he was absolutely aware of the difficulties of rendering full tonal scale in a black and white print. The ink-jet prints in this show are so remarkably close to their gelatin silver sisters that the viewer has to go back and forth from print to print in order to discern any possible difference. Evans loved the detail that an enlarged print brings out and the enlarged digital prints in this exhibition certainly do that.
Hill sums up the advantages of technology without denigrating the magnificence of the original process:
All new media affect voice and timbre. A greater tonal scale and more precise control of values are the two most significant tools offered by digital technology. The information so difficult to maintain in the dark and light ends of the scale using gelatin silver materials is now printable. Gelatin silver has been replaced by carbon black pigments laid onto archival paper. The music is the same; certain subtle notes are now heard more clearly.