Jonas Mekas was mentioned in passing on this blog last week, which seems fortuitous timing. Mekas has just announced (by video, of course) a plan to release a short film every day next year. All will be formatted for the video iPod; however, video formatted this way doesn't need a video iPod for playback.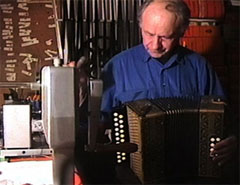 Some background: Jonas Mekas is primarily an experimental film maker, having used film to document his life for the past fifty years. Along with Michael Apted's 7 Up series, Mekas's As I Was Moving Ahead, Occasionally I Saw Brief Glimpses of Beauty is one of the twentieth century's great works of biography. He's one of the most respected Lithuanian poets of the last century. And he's also been a central force for avant-garde film culture in New York. Anthology Film Archives, his current cinema, presents an incredibly wide range of historical and contemporary film. It's one of the great things about living in New York: the vast majority of what's shown there simply isn't distributed, and is inaccessible any other way.
Mekas has been taken in by the Maya Stendhal Gallery, which is currently hosting an exhibit of forty of his recent films ("recent" defined rather loosely). I spent an hour or so at the gallery yesterday; in the darkened space, flat-screen monitors present Mekas's films on repeat. The selection of films at Maya Stendhal is tilted to the celebrity: there's Andy Warhol at work, Salvador Dalí and Gala clowning about with broken-down cars somewhere in Chelsea, John Lennon and Yoko Ono's bed-in in Montréal, Jackie Onassis at home, the elderly Carl Jung carving stones.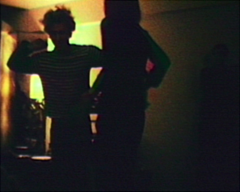 It's a nice experience, but it's difficult to actually watch the films there: the monitors are installed in series, so while watching one you can't help but be distracted by what's going on to the left and right. Mekas's private epiphanies (Stan Brakhage making an enormous pile of pancakes for his children, for example) are interrupted by famous faces. But perhaps the most interesting thing about this exhibit isn't actually going on in the gallery itself: the Maya Stendhal gallery is presenting the forty films online for public downloading. Currently, they're available in iPod format – 320 x 240 pixel QuickTime files – but a few are available in high resolution: I downloaded a 665Mb file of the Velvet Underground's first public appearance, at a psychiatrist's convention in 1965. This is DVD quality: 720 x 576 pixels.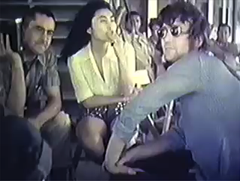 Mekas's films aren't free, but they're relatively cheap: $3.99 for iPod quality, $6.99 for high resolution. The money isn't going straight to Mekas: it's going through the gallery. But there's something that feels exciting about this: an artist taking over the reigns of distribution. This isn't work that the general public is interested in; neither the artist nor the audience would be well-served by a regular distributor. Here there's a more direct connection. Mekas curates an enormous library of film at Anthology Film Archives; it would be a tremendous achievement if that could be made available online.
Mekas's upcoming project to make a film a day and present it online is also interesting as an experiment in networked culture. Working online will create a much faster feedback loop for Mekas: there will almost certainly be a much greater role for the audience, not dissimilar to what we've been examining with our Thinking Out Loud series.