Alex Itin just cross-posted a wonderful new piece on his blog, and Vimeo.
I watched it on Vimeo and was struck by the terrific back and forth discussion between Alex and the people who are looking at his work. It's gone beyond "cool video dude" and "you rock" to include rather thoughtful sharing of feelings and riffs on ideas for new work. By engaging with his "readers" in the way that he is, Alex is building a community around his work. He is inventing a new medium and unconsciously taking on the role of "author in a networked environment" that we talk about so often on these pages.
Check out this exchange on Vimeo about the video: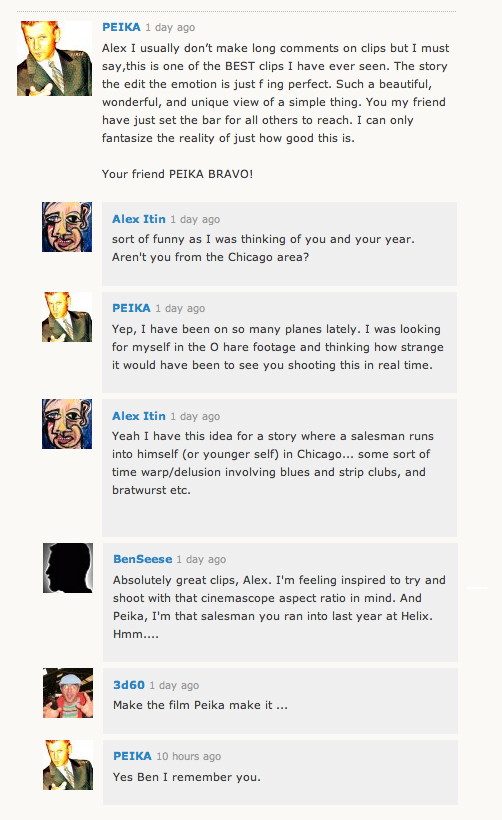 I am struck by the compromise Alex has to make as an artist in order to build a community around his work. When we first met, Alex was making brilliant multi-modal works combining his paintings, video and audio mash-ups. While on the one hand he had complete control over how the elements appeared and combined it was done in proprietary software which created standalone documents which seriously limited the size of his potential audience. In 2005 he became the institute's first artist in residence and we made a blog for him where he started posting a continuous stream of individual works. Moving onto the web provided a much larger audience, but the blog format meant that he lost the ability to make complex layered works. Alex's big web breakthrough came when he started to post his paintings to Flickr and his videos to Vimeo. This allowed him to begin a dialog with his audience and even to begin a series of exciting collaborations with other artists. But at the expense of having to put his paintings on one site and his videos on another.
The balkanization of art works (video here, photos there, and audio in yet another space) in the web 2.0 environment is frustrating, but i completely understand why it's better to show your work in a place which fosters a dynamic and lively back and forth. I look forward to the day when artists won't have to make a trade-off between form/content and community.
Sophie 1.0 is being released next week and Alex is the first artist we're giving it to. Sophie documents don't display in a web page (yet) but they do have an online component which enables people to have a conversation about the work in the "margin" of the work itself. Stay tuned, we'll put an announcement up here of Alex's first Sophie.