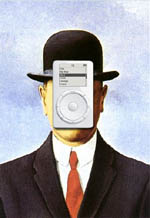 A smart column in Wired by Leander Kahney explains why France's new legislation prying open the proprietary file format lock on iPods and other entertainment devices is an important stand taken for the public good:
French legislators aren't just looking at Apple. They're looking ahead to a time when most entertainment is online, a shift with profound consequences for consumers and culture in general. French lawmakers want to protect the consumer from one or two companies holding the keys to all of its culture, just as Microsoft holds the keys to today's desktop computers.
Apple, by legitimizing music downloading with iTunes and the iPod, has been widely credited with making the internet safe for the culture industries after years of hysteria about online piracy. But what do we lose in the bargain? Proprietary formats lock us into specific vendors and specific devices, putting our media in cages. By cornering the market early, Apple is creating a generation of dependent customers who are becoming increasingly shackled to what one company offers them, even if better alternatives come along. France, on the other hand, says let everything be playable on everything. Common sense says they're right.
Now Apple is the one crying piracy, calling France the great enabler. While I agree that piracy is a problem if we're to have a functioning cultural economy online, I'm certain that proprietary controls and DRM are not the solution. In the long run, they do for culture what Microsoft did for software, creating unbreakable monopolies and placing unreasonable restrictions on listeners, readers and viewers. They also restrict our minds. Just think of the cumulative cognitive effect of decades of bad software Microsoft has cornered us into using. Then look at the current ipod fetishism. The latter may be more hip, but they both reveal the same narrowed thinking.
One thing I think the paranoid culture industries fail to consider is that piracy is a pain in the ass. Amassing a well ordered music collection through illicit means is by no means easy — on the contrary, it can be a tedious, messy affair. Far preferable is a good online store selling mp3s at reasonable prices. There you can find stuff quickly, be confident that what you're getting is good and complete, and get it fast. Apple understood this early on and they're still making a killing. But locking things down in a proprietary format takes it a step too far. Keep things open and may the best store/device win. I'm pretty confident that piracy will remain marginal.