(Jeff Drouin is in the English Ph.D. Program at The Graduate Center of the City University of New York)
About three weeks ago I had lunch with Ben, Eddie, Dan, and Jesse to talk about starting a community with one of my projects, the Ecclesiastical Proust Archive. I heard of the Institute for the Future of the Book some time ago in a seminar meeting (I think) and began reading the blog regularly last Summer, when I noticed the archive was mentioned in a comment on Sarah Northmore's post regarding Hurricane Katrina and print publishing infrastructure. The Institute is on the forefront of textual theory and criticism (among many other things), and if:book is a great model for the kind of discourse I want to happen at the Proust archive. When I finally started thinking about how to make my project collaborative I decided to contact the Institute, since we're all in Brooklyn, to see if we could meet. I had an absolute blast and left their place swimming in ideas!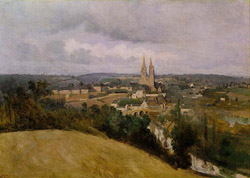 While my main interest was in starting a community, I had other ideas — about making the archive more editable by readers — that I thought would form a separate discussion. But once we started talking I was surprised by how intimately the two were bound together.
For those who might not know, The Ecclesiastical Proust Archive is an online tool for the analysis and discussion of à la recherche du temps perdu (In Search of Lost Time). It's a searchable database pairing all 336 church-related passages in the (translated) novel with images depicting the original churches or related scenes. The search results also provide paratextual information about the pagination (it's tied to a specific print edition), the story context (since the passages are violently decontextualized), and a set of associations (concepts, themes, important details, like tags in a blog) for each passage. My purpose in making it was to perform a meditation on the church motif in the Recherche as well as a study on the nature of narrative.
I think the archive could be a fertile space for collaborative discourse on Proust, narratology, technology, the future of the humanities, and other topics related to its mission. A brief example of that kind of discussion can be seen in this forum exchange on the classification of associations. Also, the church motif — which some might think too narrow — actually forms the central metaphor for the construction of the Recherche itself and has an almost universal valence within it. (More on that topic in this recent post on the archive blog).
Following the if:book model, the archive could also be a spawning pool for other scholars' projects, where they can present and hone ideas in a concentrated, collaborative environment. Sort of like what the Institute did with Mitchell Stephens' Without Gods and Holy of Holies, a move away from the 'lone scholar in the archive' model that still persists in academic humanities today.
One of the recurring points in our conversation at the Institute was that the Ecclesiastical Proust Archive, as currently constructed around the church motif, is "my reading" of Proust. It might be difficult to get others on board if their readings — on gender, phenomenology, synaesthesia, or whatever else — would have little impact on the archive itself (as opposed to the discussion spaces). This complex topic and its practical ramifications were treated more fully in this recent post on the archive blog.
I'm really struck by the notion of a "reading" as not just a private experience or a public writing about a text, but also the building of a dynamic thing. This is certainly an advantage offered by social software and networked media, and I think the humanities should be exploring this kind of research practice in earnest. Most digital archives in my field provide material but go no further. That's a good thing, of course, because many of them are immensely useful and important, such as the Kolb-Proust Archive for Research at the University of Illinois, Urbana-Champaign. Some archives — such as the NINES project — also allow readers to upload and tag content (subject to peer review). The Ecclesiastical Proust Archive differs from these in that it applies the archival model to perform criticism on a particular literary text, to document a single category of lexia for the experience and articulation of textuality.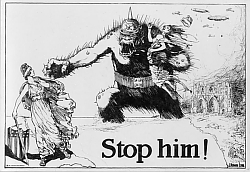 If the Ecclesiastical Proust Archive widens to enable readers to add passages according to their own readings (let's pretend for the moment that copyright infringement doesn't exist), to tag passages, add images, add video or music, and so on, it would eventually become a sprawling, unwieldy, and probably unbalanced mess. That is the very nature of an Archive. Fine. But then the original purpose of the project — doing focused literary criticism and a study of narrative — might be lost.
If the archive continues to be built along the church motif, there might be enough work to interest collaborators. The enhancements I currently envision include a French version of the search engine, the translation of some of the site into French, rewriting the search engine in PHP/MySQL, creating a folksonomic functionality for passages and images, and creating commentary space within the search results (and making that searchable). That's some heavy work, and a grant would probably go a long way toward attracting collaborators.
So my sense is that the Proust archive could become one of two things, or two separate things. It could continue along its current ecclesiastical path as a focused and led project with more-or-less particular roles, which might be sufficient to allow collaborators a sense of ownership. Or it could become more encyclopedic (dare I say catholic?) like a wiki. Either way, the organizational and logistical practices would need to be carefully planned. Both ways offer different levels of open-endedness. And both ways dovetail with the very interesting discussion that has been happening around Ben's recent post on the million penguins collaborative wiki-novel.
Right now I'm trying to get feedback on the archive in order to develop the best plan possible. I'll be demonstrating it and raising similar questions at the Society for Textual Scholarship conference at NYU in mid-March. So please feel free to mention the archive to anyone who might be interested and encourage them to contact me at jdrouin@gc.cuny.edu. And please feel free to offer thoughts, comments, questions, criticism, etc. The discussion forum and blog are there to document the archive's development as well.
Thanks for reading this very long post. It's difficult to do anything small-scale with Proust!