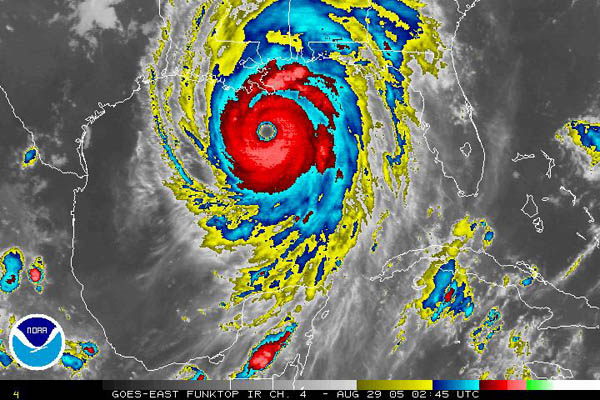 As Katrina has blasted the Gulf Coast beyond recognition, a number of blogs have maintained a steady stream of reportage and personal testimony, in some cases serving as bulletin boards for the names of the missing. Given the extent of the destruction to communications infrastructure, it's not surprising that it has primarily been the media blogs that have managed to stay active.
Here are a few I've come across (Poynter Online has been an invaluable resource for exploring the online response to Katrina):
Eyes on Katrina: A South Mississippi hurricane journal (from The Sun Herald) – a combination of brief news updates, community bulletin board, and advance runs of Sun Herald stories on Katrina.
Tuesday, 2:23 pm:
This from staff writer Geoff Pender, who is calling in reports from Hattiesburg. If you are thinking about getting in the car and coming back to South Mississippi, don't. The Mississippi Emergency Management Agency is telling people who have evacuated to stay away until the roads have been cleared and the National Guard is in place. If we get word when that happens, we'll pass it along.
On a different note, we have a report that portions of U.S. 90 are under seven feet of water.
NOLA View: a weblog by Jon Donley – for nola.com, a news and culture portal from The New Orleans Times-Picayune. Posting survival stories from readers.
From reader Lynne Bernard (today), on trying to survive in Talahassee, FL:
Story: We are stranded in Tallahassee. There is absolutely no compassion here whatsoever. The Hampton Inn in Tallahasse is pretty much throwing us out because of a football game. We are running out of money with no way of getting more out of the bank. We cannot use debit cards and our credit cards are maxed out. I thought I would encounter a little compassion and understanding here in Florida seeing they have been through similar situations. There is none. People here and the manager of this motel are very cold and uncaring. If anyone out there has any suggestions please email me asap. I cannot get in touch with red cross or fema. Cell phones don't work. Can't get hold of any family member for help. Please help!!!!
CNN: Miles O'Brien's Hurricane Blog – direct from Louisiana.
Monday, 6:54 am:
Louisiana State University Hurricane Center's Ivor van Heerden just said a real concern is coffins that would be swept away by the floodwaters — which themselves will be laced with a witches' brew of industrial chemicals. Horrifying image.
Metroblogging New Orleans – group blog with frequent, first-hand reports.
12:54 pm today, from Craig Giesecke:
Being refugees has forced us to confront new realities and possibilities, particularly since it might be a while before we'll actually be able to return to stay. I'm self-employed in a food business that was just beginning to take off and fly a bit on its own when this storm struck. To wit…
1) when we actually go home, what shape will my production facility be in? Since it's in Mid-City, I'm assuming it's already full of water.
2) Even if I can get the equipment operating again someplace else, 75 percent of my business is done in metro New Orleans. Lord knows how long it might be (2006?) before any local clients will be able to start placing orders again.
3) So far, our house seems to be dry. But when we get back in, how long will it be before anything else is around us? The neighbors will return, but how long before any of us can start earning a paycheck again? I mean — earning a paycheck ANYwhere?
Storm Central from al.com ("everything alabama") – news updates and reader email.
Paula Baker from Houston, TX:
I am trying to find out about my brother. Stayed in Pascagoula. House on Sunfish Dr. 5 Blocks from beach
This is just a selection – by no means comprehensive. Let us know if you find anything else of interest.