just finished the second book discussion at the institute. first was neil postman's building a bridge to the eighteenth century. second was steve johnson's everything bad is good for you in which johnson presents a contemporary refutation of postman.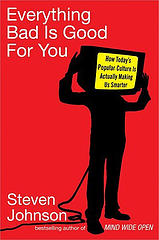 johnson's basic premise seems harmless enough. games and tv drama are getting more layered, more complex. the mental exercise is likely making our brains more nimble, might even be improving our problem-solving skills. OK…
but how can you define good and bad simply in terms of whether one's brain is better at multi-tasking and problem-solving. i'll grant that this shift in raw brain power might make us more effective worker bees for our techno-capitalist society, but it doesn't mean that the substance of our lives or the social fabric is improved.
we don't need cheerleaders telling us everything is fine — especially when in our gut we're pretty sure it isn't. we need to look long and hard at the kind of world we are building with all this technology.
johnson's book has been widely praised, making it all the more important to hold it up to careful scrutiny. over the next several days we're going to launch a serious critique of "everything bad is good for you." please feel encouraged to join in.