i saw four live performances and a dozen gallery shows over the past few days; one theme kept coming up– what is the relationship of simulated reality to reality. here are some highlights and weekend musings.
thursday night: "Supervision," a play by the Builders Association and DBox about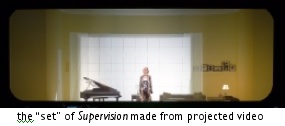 the infosphere which seems to know more about us than we do — among other things "it" never forgets and rarely plays mash-up with our memories the way human brains are wont to do. the play didn't shed much light on what we could or should do about the encroaching infosphere but there was one amazing moment when video started shooting from left to right across the blank wall behind the actors. within moments a complete set was "constructed" out of video projections — so seamlessy joined at the edges and so perfectly shot for the purpse that you quickly forgot you were looking at video.
friday night: Nu Voices six guys making amazing house music, including digitized-sounding vocals, entirely with their voices. one of the group, Masai Electro, eerily imitated the sounds laurie anderson makes with her vocoder or that DJs make when they process vocals to sound robotic. the crowd loved it which made me wonder why we are so excited about hearing a human pretend to be a machine? i asked masai electro why he thinks the audience likes what he does so much. he had never been asked the question before and evidently hadn't thought about it, but then spontaneously answered "because that's where we're going" meaning that humans are becoming machines or at least are becoming "at one" with them.
saturday afternoon: Clifford Ross' very large landscapes (13′ x 6′) made with a super high resolution surveillance camera. a modern attempt at hudson river school lush landscapes. because of the their size and detail, you feel as if you are looking out a window at reality; makes you long for the "natural world" most of us rarely encounter.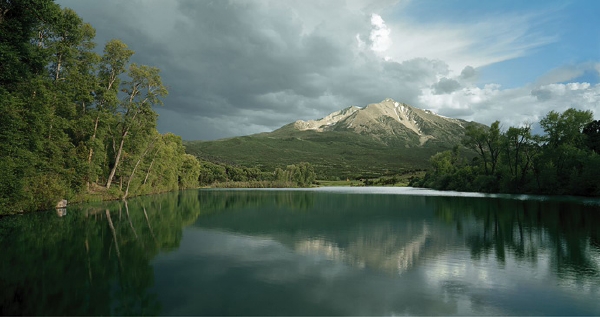 left with a bunch of questions
does it make a difference if our experience is "real" or "simulated." does that way of looking at things even make sense anymore. when we manage to add the smell of fresh air, the sound of the wind, the rustle of the grass, the bird in flight and the ability to walk around in life-size 3-D spaces to the clifford ross photos, what will be the meaningful difference between walking in the countryside and opening the latest "you are there" coffee table book of the future. in a world with limited resources i can see the value of subsituting vicarious travel for the real thing (after all if all 7 billion of us traipsed out to the galapagos during our lifetimes, the "original" would be overrun and despoiled, turning it into its opposite). but what does it mean if almost all of our experience is technologically simulated and/or mediated?
Pedro Meyer in his comment about digitally altered photos says that all images are subjective which makes altered/not-altered a moot distinction. up until now the boundary between mediated objects and "reality" was pretty obvious, but i wonder if that changes when the scale is life-like and 3D. the Ross photos and the DBox video projections foreshadow life-size media which involves all the senses. the book of the future may not be something we hold in our hands, it might be something a 3-dimensional space we can inhabit. does it make any difference if i'm interacting only with simulacra?