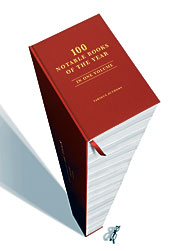 On November 27 the Pulitzer Prize Board announced that "newspapers may now submit a full array of online material-such as databases, interactive graphics, and streaming video-in nearly all of its journalism categories," while the closest The New York Times' 100 Notable Books of the Year came to documenting any changes in the publishing world is one graphic memoir (Fun Home by Alison Bechdel.)
Only last year the Pulitzer Prize Board allowed for the first time some online content, but now, it will permit a broader, and much more current assortment of online elements, according to the different Pulitzer categories. The seemingly obvious restrictions are for photography, which permit still images only. They have decided to catch up with the times: "This board believes that its much fuller embrace of online journalism reflects the direction of newspapers in a rapidly changing media world," said Sig Gissler, administrator of the Pulitzer Prizes. With its new rules for online submissions, the Pulitzer Board acknowledges that online elements such as a database, blog, interactive graphic, slide show, or video presentation count as items in the total number of elements, print or online, that can be considered worth a prize.
Even though the use of multimedia and computer technology has become ubiquitous not only in the media world but also in the performing arts, the book world seems absorbed in its own universe. The notion of "digital book" continues to mean digital copies of books and the consequent battle among those who want the lion's share of the market (see "Yahoo Rebuffs Google on Digital Books"). And, when we talk about ebooks we mean devices for reading digital copies of books. Interestingly, most of the books published today are written, composed and set using electronic technology. So much of what we read online is full of distracting, sometimes quite interesting, advertising. On Black Friday, lots of people following the American tradition of shopping on that day did it online. It would seem that we are more than ready for real ebooks. I wonder how long it would take for one of them to hit the top lists of the year.