The Chronicle of Higher Education ran a good piece last week by Henry Farrell — "The Blogosphere As A Carnival of Ideas" — looking at the small but growing minority of scholars who have become bloggers. Farrell is a poli sci professor at George Washington, and a contributor to the popular group blog Crooked Timber. He argues from experience how blogs have invigorated scholarly exchange within and across fields, allowing for a more relaxed discourse, free of the jargon and stuffy manner of journals. In some cases, blogs have enabled previously obscure academics to break beyond the ivory tower to connect with a large general readership hungry for their insight and expertise.
What Farrell neglects to mention — which is surprising given the title of the piece — is the phenomenon of the "blog carnival," an interesting subculture of the web that has been adopted in certain academic, or quasi-academic, circles. A blog carnival is like a roving journal, a rotating showcase of interesting writing from around the blogosphere within a particular discipline. Individual bloggers volunteer to host a carnival on their personal blog, acting as chief editor for that edition. It falls to them to collect noteworthy items, and to sort through suggestions from the community, many of which are direct submissions from authors. On the appointed date (carnivals generally keep to a regular schedule) the carnival gets published and the community is treated to a richly annotated feast of new writing in the field.
Granted, not all participating bloggers are academics. Some are students, some simply enthusiasts. Anyone with a serious interest in the given area is usually welcome. Among the more active blog carnivals are Tangled Bank, a science carnival currently in its 38th edition, the Philosophers' Carnival, whose 20th edition was just posted this past Sunday, and the History Carnival, currently in its 17th edition.
Here's a small taste from the most recent offering at History Carnival, hosted by The Apocalyptic Historian:
New Deal liberalism has been on the minds of politicians lately. Hiram Hover posts about the recent talk of New Deal analogies from politicians in deciding how to help the victims of Katrina in "Responding to Katrina: Is History Any Guide?" Caleb McDaniel at Mode for Caleb draws a startling historical parallel between the 1793 yellow fever epidemic in Phildelphia and New Orleans after Katrina in 2005.
In a comparison of another of Bush's crises in the making, Jim MacDonald revisits the history of the Sepoy Rebellion with comments on the current situation in Iraq. Meanwhile Sepoy contributes to a recent attempt to compile the views Westerners have about Islam at Chapati Mystery.
How many times have humans believed the world was coming to an end? Natalie Bennett reviews a recent work on the Anabaptist takeover of Münster in 1534, when the belief in the impending apocalypse sent that city into chaos.
Most carnivals have a central site that indexes links to past editions and provides a schedule of upcoming ones, but the posts themselves exist on the various blogs that comprise the community. Hence the "carnival" — a traveling festival of ideas, a party that moves from house to house. Participating blogs generally display a badge on their sidebar signaling their affiliation with a particular collective.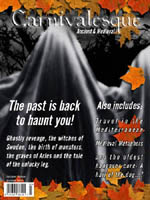 Though carnivals keep to a strict schedule, there is no mandated format or style. Host bloggers can organize the material however they choose, putting their own personal spin or filter on the current round — just as long as they stick to the overall topic. The latest issue of Carnivalesque, a monthly circuit on medieval and early modern history, shows how far some hosts will go — styled as a full magazine, the October issue is complete with a mock cover, a letter from the editor, and links organized by section.
The concept of the carnival seems to have originated in 2002 with "The Carnival of the Vanities," which for a while served as a venue for bloggers to promote their best writing — a way of fighting the swift sinking of words in a sea of rapidly updating blogs. It's not surprising that the idea was then taken up by academic types, since the carnival model, in its essence, rather jives with the main warranting mechanism of all scholarly publication: peer review. It's a looser, less formal peer review to be sure, but still operates according to the ethos of the self-evaluating collective.
It's worth paying attention to how these carnivals work because they provide at least part of the answer to a larger concern about the web: how to maintain quality and authority in a flood of amateur self-publishing. In the cycle of the carnival, blogging becomes a kind of open application process where your best work is dangled in the path of roving editors. You might say all bloggers are roving editors, but these ones represent an authoritative collective, one with a self-sustaining focus.
So the idea of the carnival, refined and sharpened by academics and lifelong learners, might in fact have broader application for electronic publishing. It happily incorporates the de-centralized nature of the web, thriving through collaborative labor, and yet it retains the primacy of individual voices and editorial sensibilities. Again, you might point out that its formula is far from unique, that this is in fact the procedure of just about any blog: find interesting stuff on the web and link to it with a few original comments. But the carnival focuses this practice into a regular, more durable form, providing an authoritative context that can be counted on week after week, even year after year. Sounds sort of like a magazine doesn't it? But its offices are constantly in flux, its editorial chair a rotating one. I'm interested to see how it evolves. If blogs in cyberspace are like the single-cell organism in the primordial porridge, might the carnival be a form of multi-cell life?