The Institute for the Future of the Book has been appointed by Arts Council England to undertake research into digital developments in literature. This is exciting news for us, not least because it marks the official launch of our London office.
Over the next few months Chris Meade and Sebastian Mary Harrington will be talking to a wide range of organisations including Arts Council England literature clients and others whose work could provide useful models to the sector.
We'll be looking at book publishing and magazines, reader development, writers including collaborative and new media authors and the blurring of distinctions between amateur and professional, live literature and festivals, plus other web activity that could provide inspiration to agencies working to spread the word about the word – and we'll be posting questions and comments on the ifbook blog as we go along.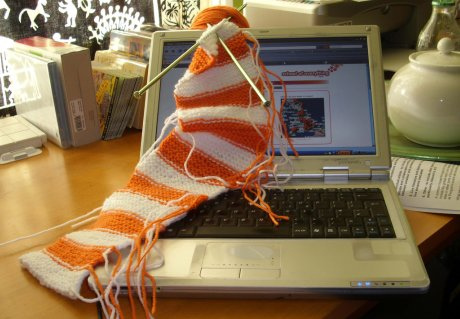 Sebastian Mary Harrington's scarf captured live under construction at the Institute's London HQ, skillfully knitted in the colours of The Institute for the Future of the Book – and The School of Everything – to celebrate the start of our new research project.