The Millions has an interesting interview with the South African-born, New York-resident writer Barry Yourgrau, who recently published a collection of "keitai" (cell phone) fiction in Japan. Known for bite-sized surrealist fables (as here), the hyper-compression of the cell phone display seemed like a natural challenge for Yourgrau, and he is now, to my knowledge, the first foreign writer to write successfully in Japan for the tiny screen. You can read a number of his keitai stories (which average about 350 words) on his blog, and hear him give a reading of the delightfully malevolent "Houndstooth," which tells of a deadly fashion plague ravaging the Burberry-obsessed youth of Japan, on NPR.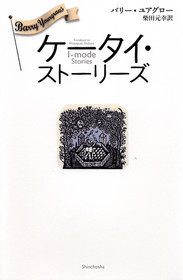 Yourgrau believes that the popularity of keitai fiction in Japan, especially among younger readers, is due primarily to the fact that most young Japanese access the Internet through their phones (which are a generation more advanced than what's available in the US) rather than on desktop computers. Kids don't have a lot of privacy in their homes, he explains further, so they spend most of their time out and about on the streets, using keitai for entertainment and social navigation.
And the fictions are as mobile as their users, migrating fluidly from one technological context to another. Many keitai novels, Yourgrau explains, frequently "emerge from pools of people on web pages" before migrating onto keitai screens. Upon scoring a success on phones, they then frequently make their way onto the bestseller list in print form (the image is the print edition of Yourgrau's recent keitai cycle). A few have even been made into films.
Western publishers would do well to study this free-flowing model. A story need not be bound to one particular delivery mechanism, be it a cell phone, web page (or book). In fact, the ecology of forms can make a more comprehensive narrative universe. This is not only the accepted wisdom of cross-media marketing franchisers and brand blizzardeers (Spiderman the comic, Spiderman the action figure, the lunchbox, the movie, the game, the Halloween costume etc.), but an age-old principle underlying the transmission of culture. The Arthurian legends, for instance, weren't spun in one single authoritative text, but in many different textual itertations over time, a plethora of visual depictions, oral storytelling, songs, objets d'art etc.
In the case of keitai fiction, there's seems to be a relation between compression of form and expansiveness of transmission. Interestingly, Yourgrau writes his phone stories longhand with a pencil, then types them up on a computer:
I write my fiction longhand first. I need the pencil/pen in hand to connect to emotions. I then type up. For the first several books I used a typewriter, now I'm (late) on computer. But I find the computer too suited to Flow, not the weight of the individual word. I've half a mind to switch back to a typewriter…..
There's an interesting paradox here: that the compression that makes for good Web or cell phone writing is not afforded by the actual tools of electronic composition, which much more favor a kind of verbal sprawl. With that in mind, it's not surprising that several of the most successful keitai novels were composed entirely on phones, one carpal tunnel syndrome-inducing keypad stroke at a time. To digress… one wonders whether the bloat of much contemporary fiction is a direct effect of word processors and the ease of Inernet research. That would support the broader observation that the net, far from killing off books, seems to have acted like a bellows, greatly boosting (at least for the time being) the number of pages produced in print.
In any case, I can readily imagine why Yourgrau's surreal miniatures fit so well in the keitai form, both as random time-fillers and as little social cherry bombs to detonate among friends -? stories plucked out of the air. I'll conclude this not so compressed ramble with one of Yourgrau's concise keitai hauntings:
EDGAR ALLAN POE RICE BALL (MEDIEVAL LANDSCAPE)
Disease strikes a distant town. The victims develop loathsome sores all over their bodies; at the same time they're maddened by extreme lascivious impulses. Down street after street door after door is splashed with a crude red cross: inside, the lunatic disfigured coupling rages on nonstop – ?men, women, even children – ?until exhausted dawn, until death.
In the hills beyond town, a monk makes his way along a darkening road. He chews a stale rice ball for his supper as he goes, so as not to interrupt his march. His sandaled feet move one in front of the other inexorably. His staff leaves a trail of dots behind him in the dusty distances. At last he comes around the side of a hill and he stops. The prospect of the dim town spreads before him. A look of disturbance moves over his face, as he slowly chews the last of his rice ball. Even here the uneasy wind carries the grisly minglings of lamentation and carnal grunting The monk becomes watchful; he looks uneasily around him and grips his staff in both hands. Two figures are moving feverishly in the darkness ahead. They seem to prance toward him, half-naked, hideous, moaning hoarse endearments. The monk calls to his god as he raises his staff and prepares to meet them.