William Drenttel has a lovely post over on Design Observer about the exquisite information of bookshelves, a meditation spurred by 60 photographs of the library of renowned San Francisco designer, typographer, printer and founder of Greenwood Press Jack Stauffacher. Each image (they were taken by Dennis Letbetter) gives a detailed view of one section of Stauffacher's shelves, a rare glimpse of one individual's bibliographic DNA, made browseable as a slideshow (unfortunately, the images are not reassembled at the end to give a full view of the collection).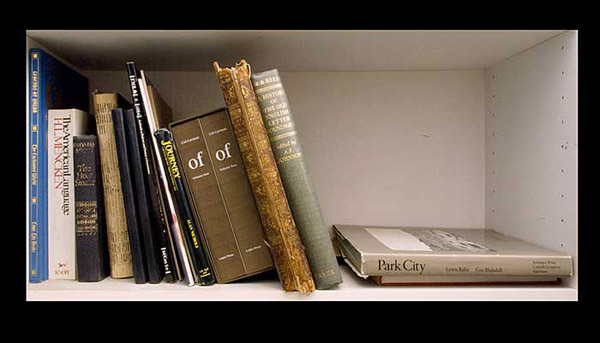 Early evidence suggests that the impulse toward personal mapping through media won't abate as we go deeper into the digital. Delicious Library and Library Thing are more or less direct transpositions of physical shelves to the computer environment, the latter with an added social dimension (people meeting through their virtual shelves). More generally, social networking sites from Facebook to MySpace are full of self-signification through shelves, or rather lists, of favorite books, movies and music. Social bookmarking sites too bear traces of identity in the websites people save and tag (the tags themselves are a kind of personal signature). Much of the texture and spatial language of the physical may be lost, a new social terrain has opened up, one which we're only beginning to understand.
But it's not as though physical bookshelves haven't always been social. We arrange books not only for our own conceptual orientation, but to give others who venture into our space a sense of our self (or what we'd like to appear as our self), our distinct intellectual algorithm. Browsing a friend's thoughtfully arranged shelf is like looking through a lens calibrated to their view of the world, especially when those books have played a crucial role, as in Stauffacher's, in shaping a life's work. Drenttel savors the idiosyncrasies that inevitably are etched into such a collection:
I have seen many great rare book libraries…. But the libraries I most enjoy are working libraries, where the books have been used and cited and annotated – first editions marred with underlining, notes throughout their pages. (I will always remember the chaos of Susan Sontag's library, where every book had been touched, read and filled with notes and ephemera.) The organization of a working library is seldom alphabetical…but rather follows some particular mental construct of its owner. Jack Stauffacher's shelves have some order, one knows. But it is his order, his life.
Or, in Stauffacher's own words:
Without this working library, I would have no compass, no map, to guide me through the density of our human condition.