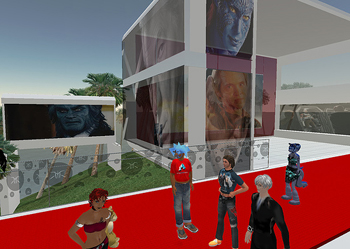 Wired News reported last week, that some users of Flickr were upset at the enforcing of, until now a rarely mentioned, Flickr policy of making non-photographic images unavailable to the public if the account does not mostly contain photographs. Although Flickr is mostly known as a photo sharing site, people often post various digitized images into Flickr including our collaborator, Alex Itin. Currently, users of Second Life are receiving particular attention with Flickr's posting policies.
The article quotes Stewart Butterfield saying, "the rationale is that when people do a global search on Flickr, they want to find photos."
I can appreciate that Flickr wants to maintain a clear brand identity. They have created one of the most successful open photo sharing websites to date and, they don't want to dilute their brand. However, isn't this just a tagging issue? It is ironic that Flickr, one of the pioneering Web 2.0 apps, whose success strongly relies on the power of folksonomy, misses this point. Flickr was one of the primary ways the general public figured out how tagging works, and their users should be able to figure out how to selection what kinds of images they want.
How much of a stretch would it be for Flickr to become an image sharing website, including tags for photographs, scanned analog images, and born digital images?
FInally, Second Life had a recent event with a tie-in to a virtual X-Men movie premiere, whose images made their way into Flickr. When asked to comment about it, Butterfield goes on to say, "Flickr wasn't designed for Universal or Sony to promote their movie. Flickr is very explicitly for personal, noncommercial use" rather than "using a photo as a proxy for an ad."
Again, I appreciate their sentiment. However, is there a feasible way to enforce this kind of policy? Is it ok to for me to post a picture of my trip to Seattle, wearing an Izod shirt, holding a Starbucks cups, in front of the Space Needle? Isn't this a proxy for an ad? As we have noted before, architecture, such as Disneyland, the Chrylser Building and Space Needle are all copyrighted. Our clothes are plastered with icons and slogans. Food and drinks are covered with logos. We are a culture of brands and increasing everything in our lives is branded. It should come to no surprise that the media we, as a culture, produce reflects these brands, corporate identities, and commercial bodies.
The decreases in cost of digital production tools have vastly increased amateur media production. Flickr provides a great service to users of the web to support the sharing of all the media people are creating. However, Flickr created something bigger than they originally intended. Rather than limiting themselves to photo sharing, there is much more potential in creating a space for the sharing of and community building around all digital images.