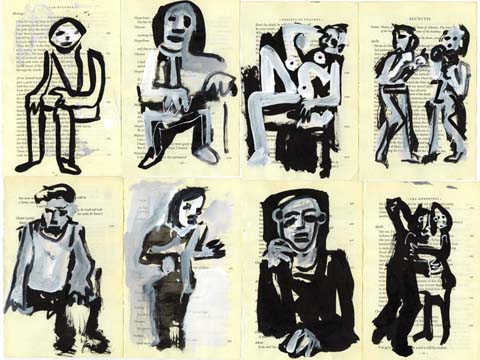 last spring we invited Alex Itin to be our first artist-in-residence at the institute. i first met Alex in the fall of 2000, during an art festival in Dumbo. he was set-up in a gallery painting portraits on pages of used books. i quite liked the paintings and got the perverse idea that it would be interesting to encourage someone who was using books in this way to work on an electronic book. i was working at Night Kitchen at the time. we had just released the beta version of TK3, the software we made for authoring and reading media rich electronic books. we lent Alex a Mac and he made his first electronic piece, Zoodoo – a series of paintings done on paperback pages which accompanied a beautiful Amiri Baraka poem. (if you first install the free TK3 Reader you can download Zoodoo from this page.) Alex kept experimenting and over time began animating the surface of his scanned-in paintings. while there has been a long history of filmmakers who painted on the surface of film, Alex was perhaps one of the first painters to integrate video into his paintings.






















From "Self Portait" by Alex Itin


as a condition of his artist-in-residency we asked Alex to keep a blog in which we hoped he would write about his work as he did it. we were amazed after a few days to realize that alex was beginning to use the blog not as a way to talk about his work, but rather it was just another venue for his work. at first Alex posted paintings, drawings and photos sometimes with a text commentary. after a while he started to include animated gifs and sound. although the artist-in-residency ended almost a year ago, alex has been keeping up the blog. in fact, he's been on a creative tear the past few weeks. check out the last two entries — the "thousand year crane" (be sure to start the music track) and the Chinese new year tree.
(disclaimer: i've been collecting Alex's work for six years now, so my interest in his success is not purely altruistic)