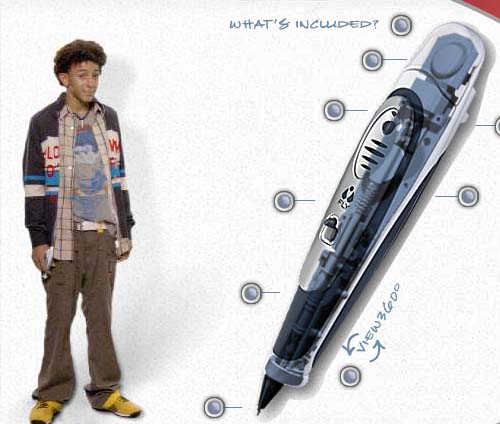 Two products that will most likely never be owned by the same teenager: The hundred dollar Laptop from MIT and the hundred dollar "pentop" computerized pen called the Fly. While the hundred dollar laptop (as we've said a few times on this site already) is promoted as a device to bring children of underdeveloped countries into the silicon era, the Fly is a device that will help technology-saturated 8 to 14 year olds keep track of soccer practice, learn to read, and solve arithmetic equations. Equipped with a microphone and OCR software, the Fly will read aloud what you write: if you use the special paper that comes with the product, you can draw a calculator and the calculator becomes functional. It's all very Harold and the Purple Crayon .
In his review of the Fly's capabilities in todays New York Times, David Pogue is largely enthusiastic about the device, finding it both practical and appealing (if a tad buggy in its original version). Most of all, he seems to think the Fly's too-cool-for-school additional features are necessary innovation in a market that he says has begun to dry up — digital educational products for children. According to Pogue:
When it comes to children's technology, a sort of post-educational age has dawned. Last year, Americans bought only one-third as much educational software as they did in 2000. Once highflying children's software companies have dwindled or disappeared. The magazine once called Children's Software Review is now named Children's Technology Review, and over half of its coverage now is dedicated to entertainment titles (for Game Boy, PlayStation and the like) that have no educational component.
If Pogue is right, and educational software is on its way out, does this mean that everything has moved over to the web? And what implication does this downturn have for the hundred dollar laptop project?