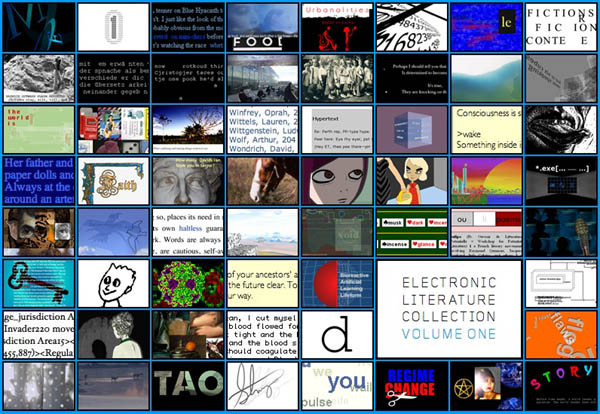 Seven years ago, the Electronic Literature Organization was founded "to promote and facilitate the writing, publishing, and reading of electronic literature." Yesterday marked a major milestone in the pursuit of the "reading" portion of this mission as ELO released the first volume of the Electronic Literature Collection, a wide-ranging anthology of 60 digital literary texts in a variety of styles and formats, from hypertext to Flash poetry. Now, for the first time, all are made easily accessible over the web or on a free CD-ROM, both published under a Creative Commons license.
The contents — selected by N. Katherine Hayles, Nick Montfort, Scott Rettberg and Stephanie Strickland — range from 1994 to the present, but are stacked pretty heavily on this side of Y2K. Perhaps this is due to the difficulty of converting older formats to the web, or rights difficulties with electronic publishers like Eastgate. Regardless, this is a valuable contribution and ELO is to be commended for making such a conscious effort to reach out to educators (they'll send a free CD to anyone who wants to teach this stuff in a class). Hopefully volume two will delve deeper into the early days of hypertext.
This outreach effort in some ways implicitly acknowledges that this sort of literature never really found a wider audience, (unless you consider video games to be the new literature, in which case you might have a bone to pick with this anthology). Arguments have raged over why this is so, looking variously to the perishability of formats in a culture of constant system upgrades to more conceptual concerns about non-linear narrative. But whether e-literature fan or skeptic, this new collection should be welcomed as a gift. Bringing these texts back into the light will hopefully help to ground conversations about electronic reading and writing, and may inspire new phases of experimentation.