Just read a Dec. 16th Wired article about a Canadian Hugh McGuire's brilliant new venture Librivox. Librivox is creating and distributing free audiobooks by asking volunteers to create audio files of works of literature in the public domain. The files are hosted on the Internet Archive and are available in MP3 and OGG formats.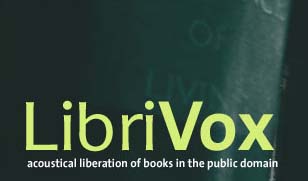 Thus far, Librivox — which has only been up for a few months — has recorded about 30 titles, relying on dozens of volunteers. The website promotes the project as the "acoustical liberation of the public domain" and claims that the ultimate goal is to liberate all public domain works of literature. For now, titles cataloged on the website include L Frank Baum's The Wizard of Oz, Joseph Conrad's The Secret Agent and the U.S. Constitution.
Using Librivox couldn't be easier: clicking on an entry will bring you to a screen which allows you to select a Wikipedia entry on the book in question, the e-Gutenberg file of the book, an alternate Zip file of the book, and the Librivox audio version, available chapter by chapter with the names of each volunteer reader noted prominently next to the chapter information.
I listened to parts of about a half-dozen book chapters to get a sense of the quality of the recordings, and I was impressed. The volunteers have obviously chosen books they are passionate about, and the recordings are lively, quite clear and easy to listen to. As a regular audiobook listener, I was struck by the fact that while most literary audiobooks are read by authors who tend to work hard at conveying a sense of character, the Librivox selections seemed to convey, more than anything, the reader's passion for the text itself; ie, for the written word. Here at the Institute we've been spending a fair amount of time trying to figure out when a book loses it's book-ness, and I'd argue that while some audiobooks blur the boundary between book and performance, the Librivox books remind us that a book reduced to a stream of digitally produced sound can still be very much a book.
The site's definitely worth a visit, and, if you've got a decent voice and a few spare hours, there's information about how to become a volunteer reader yourself. And finally, don't miss the list of other audiolit projects on the lower right-hand corner of the homepage: there are many voices out there, reading many books — including Japanese Classical Literature For Bedtime, if you're so inclined.