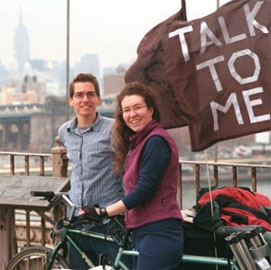 Liz Barry and Bill Wetzel, the people behind Talk to Me, stopped by the institute offices for lunch today. It is easy to describe what they do, they carry a sign that says "talk to me" and travel the country talking to strangers. However, it is a bit harder to categorize what they do. While not quite a social experiment, they playfully recounted how various places contextualize what they do. In the Upper West Side of New York they are quasi-therapists, while further south in the East Village they are performance artists. Recently, they biked across the country and back, all the while talking to strangers.
The thing that struck me is how they spend their time talking to people just to do it, without some agenda. They are not fund raisers for a non-profit or religious organization, nor do they take money from people after they talk to them (although they accept paypal and mailed donations.) There is no big book deal, reality tv show, or documentary film project looming in the background. They just wanted to start talking to different people and over three years later, the conversation is still ongoing. When I was in graduate school, by my second year, I started feeling that I only did things, so that I could document them for future projects. I get no such impression from Bill and Liz.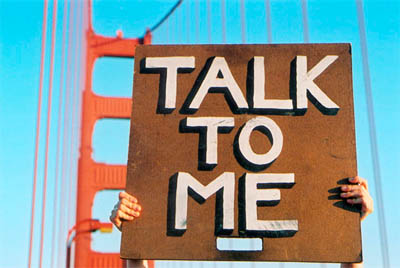 With blogs, photo sharing services, social networking sites, and affordable digital photography and video cameras, anyone can become a content creator and publisher. Documentation begins to drive all activity. Often, I have seen people walking in Times Square with a digital video camera in hand. Oblivious to their surroundings, they were completely preoccupied with documenting everything. Will they ever watch the endless hours of footage they are recording? Obviously, the camera filters their experience. When Liz and Bill set up shop in Time Square, they mainly want to engage in conversation. Their experiences would be very different if they held cameras, because the interaction shifts from a conversation to an interview.
I am glad that they collected some photos along their journey and recorded their thoughts in journals. I am also glad that they did not let that documentation process interfere with their project, whatever "it" is.