1. When radio was the main electronic media source, families would gather around the radio and listen to music, news, or entertainment programming, not unlike traditional television viewing. Today, radio listening habits have shifted, and I only hear the radio in cars and offices. Television viewing (if you can even call it that) is experiencing a similar shift, as people multitask at home, with the television playing in the background. With the roll out of Digital Multimedia Broadcasting (DMB) in South Korean last year, the use of television is starting to resemble radio even more. DBM is a digital radio transmission system which allows television signals to play on mobile devices. Since its 2005 debut, a slew of DMB capability devices, such as GPS units and the PM80 PDA from LG have been released in Korea. DBM systems are being planned throughout Europe and Asia, which may make mobile television viewing ubiquitous and the idea of a family sitting in front of a television at home seem quaint.


2. I recently posted on a partnership between youtube and NBC, which will create a channel on the video sharing site to promote new shows from NBC this autumn. NBC seems to have taken the power of youtube to heart as is producing new episodes of the failed WB pilot, "Nobody's Watching," which never aired. The pilot was leaked to youtube and viewed by over 450,000 people. I'm waiting to see how far NBC is willing experiment proactively with youtube and its community to create better programming.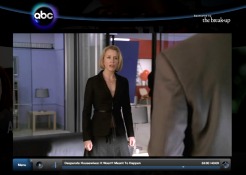 3. In the US, the shifting of television from large boxes residing in living rooms to desktops, laptops, and portable media players, has often meant viewing pirated programming uploaded onto video sharing sites like youtube or downloading files from bit torrent. For those who don't want to break the law, Jeff Jarvis reports that legal streamed and downloaded content will be helped by an announcement by ABC that 87% of viewers of their streamed video were able to recall its advertising, which is over 3 times the average recall of standard television advertising. While legal content is important, I hope it doesn't kill remix culture or the anyone can be a star ability that youtube provides.