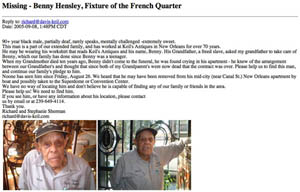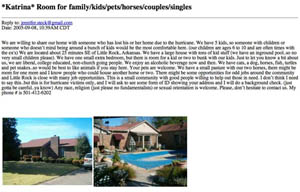 You can find just about anything on craigslist. Bikes, mattresses, futons, stereos, landscapers, moving vans, graphic designers, jobs. You can even find missing persons, or a safe haven thousands of miles from what was once your home. How a public classifieds section transformed itself overnight into a dynamic networked survival book – a central node in the effort to locate the missing and provide shelter to the uprooted – captures the significance of what has happened over the past two weeks in Katrina's wake. The web has been pushed to its full potential, capturing both the enormity of the disaster (in a way that the professional media, working alone, would have been unable to), and the details – the individual lives, the specific intersections of streets – that got swept up in the flood. This give-and-take between global and "hyperlocal" is what Web 2.0 is all about. Danah Boyd recently described this as "glocalization" – "a dance between the individual and the collective":
In business, glocalization usually refers to a sort of internationalization where a global product is adapted to fit the local norms of a particular region. Yet, in the social sciences, the term is often used to describe an active process where there's an ongoing negotiation between the local and the global (not simply a directed settling point). In other words, there is a global influence that is altered by local culture and re-inserted into the global in a constant cycle. Think of it as a complex tango with information constantly flowing between the global and the local, altered at each junction.
The diverse, simultaneous efforts on the web to bear witness and bring relief to the ravaged Gulf Coast – a Knight Ridder newspaper running hyperlocal blogs out of a hurricane bunker (nola.com); a frantic text message sent from a phone in a rapidly flooding attic to relatives in Idaho who, in turn, post precise coordinates for rescue on a missing persons forum (anecdote from Craig Newmark of craigslist); an apartment rental registry turned into a disaster relief housing index; images from consumer digital cameras leading the network news; scipionus.com, the interactive map wiki where users can post specific, geographically situated information about missing persons and flood levels – that is the dance. The case of the scrappy craigslist, or rather its users, rising to the occasion is particularly moving.