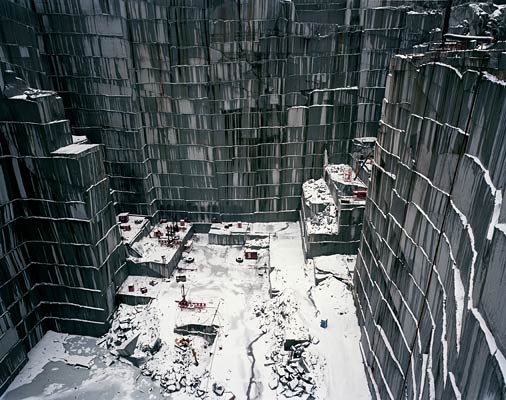 Slate is trying something new with its art criticism: a new "gallery" feature where each month an important artist will be discussed alongside a rich media presentation of their work.
…we're hoping to emphasize exciting new video and digital art–the kind of art that is hard to reproduce in print magazines.
For their first subject, they don't push the print envelope terribly far (just a simple slideshow), but they do draw attention to some stunning work by Canadian photographer Edward Burtynsky, who (happily for us New Yorkers) has shows coming this week to the Brooklyn Museum and the Charles Cowles Gallery in Manhattan. Burtynsky documents landscapes bearing the mark of extreme human exploitation – the infernal streams flowing from nickel mines, junked ocean liners rusting in chunks on the beach, abandoned quarries ripe with algae in their cubic trenches, and an arresting series from recent travels through China's industrial belt.
These photographs carry startling information through the image-surplussed web. But Burtynsky disappoints in one vital, perhaps deciding, respect:
…his position on the moral and political implications of his work is studiously neutral. He doesn't point fingers or call for change; instead, he accepts industry's exploitation of the land as the inevitable result of modern progress. "We have extracted from the land from the moment we stood on two feet," he said in an interview in the exhibition catalog. "The entire 20th century has been a revving up of this large consumptive engine. It's not a question of whether we are going to stop consuming. It's not going to happen…"
As someone who believes that struggling to prevent (or at least mitigate) global ecological disaster should be the transcending narrative of our times, I find Burtynsky's detachment deeply depressing and self-defeating. His images glory in the sick beauty of these ravaged scenes, and the cultural consumers that will no doubt pay large sums for these photographs at his upcoming Chelsea show only compound the cynicism.