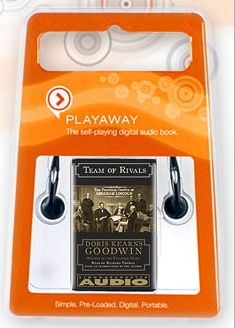 Over the next few weeks, shoppers at Borders and Barnes and Noble will get a first look at a new form of audiobook, one that seems halfway between an ipod and those greeting cards that play a tune when opened. Playaways are digitized audio books that come embedded in their own playing device; they sell, for the most part, for only slightly more than audio books on cassette or CD. Each Playaway is also wrapped in a replica of the book jacket of the original printed volume: the idea is that users are supposed to walk around with these deck-of-card-sized players dangling around their necks advertising exactly what it is they're listening to (If you're the type who always tries to sneak a glance at the book jacket of the person who's sitting next to you on the bus or subway, the Playaway will make your life much easier). Findaway has about 40 titles ready for release, including Khaled Hosseini's Kite Runner, Doris Kearns Goodwin's American Colossus: The Political Genius of Abraham Lincoln, and language training in French, German, Spanish and Italian.
I'm a bit puzzled by the Playaways. I can understand why publishing industry executives would be excited about them, but I'm not so about consumers. The self-contained players are being marketed to an audience that wants an audiobook but doesn't want to be bothered with CD or MP3 players. The happy customers pictured on the Playaway website are both young and middle aged, but I suspect the real audience for these players would be older Americans who have sworn off computer literacy, and I don't know that these folks are listening to audio books through headphones.
Speaking of older Americans, if you go down into my parent's basement, you'll see a few big shopping bags of books-on-tape that they bought, listened to once, and then found too expensive to throw out yet impossible to give away. This seems clearly to be the future of the Playaways, which can be listened to repeatedly (if you keep changing the batteries) but can't play anything else than the book they were intended to play. The throwaway nature of the Playaway (suggested, of course, by the very name of the device) is addressed on the company's website, which provides helpful suggestions on how to get rid of the things once you don't want 'em anymore. According to the website, you can even ask the Playaway people to send you a stamped envelope addressed to a charitable organization that would be happy to take your Playaway.
This begs the obvious question: what if that organization wants to get rid of the Playway? And so on?
How many times will Playaway shell out a stamp to keep their players out of the landfill?