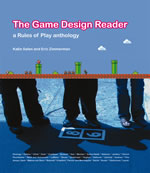 Making Games Matter, a roundtable discussion on the past, present and future of games at Parsons the New School for Design (12/9/05), was a thought-provoking event that brought together an interesting, and heterogeneous, group of experimental game developers, game designers, and seasoned academics. Participants ranged from the creators of Half-Life, Paranoia, and Adventure for the Atari 2600 to theorists of play history and game culture. This meeting was part of DEATHMATCH IN THE STACKS celebrating the launch of The Game Design Reader: A Rules of Play Anthology, edited by Katie Salen and Eric Zimmerman, and published by MIT Press. The book is a collection of essays that spans 50 years of game design and game studies.
The need to define the present of games was central to the conversation. The academics find that there is a lack of a precise vocabulary exclusive to games. At the same time, they question the use of certain terms by game designers. Videogames started outside the academy and they exhibit a certain hybrid nature, especially as they incorporate aspects of many disciplines. Now, when they are claiming their academic legitimacy, they encounter the "territorial" resistance distinctive of academia. Film or literature, for instance, can be defined within their own terms, but game theory still borrows from other disciplines to define itself. Even though games function as abstract linguistic systems, there is a resistance to analyze and to validate them. "Interactive narrative" is a new concept and it should be studied as such, not by substituting or superimposing it to other disciplines.
The term "industry" that kept coming up in the conversation, was questioned by one of the participants, as it was the use of the verb "to play" in reference to what one does with a videogame. However, do film schools question that film is an industry? What is book publishing anyway? On the other hand, the interactive nature of games, the fact that the players are part of them, is intimately tied to the notions of pleasure and enjoyment that are at the core of the concept of playing. New forms of media technology replace each other, but everyone who has played as a child has used some sort of toy, a medium for amusement and imaginative pretense. So, in fact, one "plays" videogames. When these questions were raised, game designers brought up, as a sort of definer, the differentiation between the industry as producer and the gamer as part of a community. This difference is illustrated in an article by Seth Schiesel, "For the Online Star Wars Game, It's Revenge of the Fans," in The New York Times (12/10/05). He reports on how for the players of the online Star Wars game, the camaraderie and friendship they developed with other players became far more important than playing itself, as they formed "relationships that can be hard to replicate in 'real life.'" This affirmation in itself provocative, raises important questions.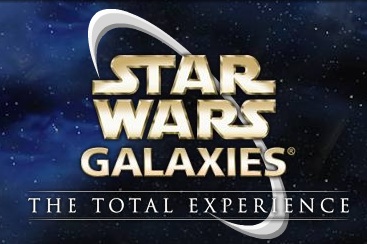 Last month, LucasArts and Sony's online game division, which have run Star Wars Galaxies since its introduction in 2003, unsatisfied with the product's moderate success, radically revamped the game in an attempt to appeal to a younger audience. But to thousands of players, mostly adults, the shifts have meant the destruction of online communities. "We just feel violated," said Carolyn R. Hocke, 46, a marketing Web technician for Ministry Medical Group and St. Michael's Hospital in Stevens Point, Wis. "For them to just come along and destroy our community has prompted a lot of death-in-the-family-type grieving," she said. "They went through the astonishment and denial, then they went to the anger part of it, and now they are going through the sad and helpless part of grieving. I work in the health-care industry, and it's very similar." One of the participants in Making Games Matter, referred to games as "stylized social interaction," and Scheisel's report shows a strikingly real side of those interactions.
After the roundtable, there was an event described as "an evening of discussion and playful debate with game critics, game creators, and game players about the past, present, and future of games." The make-up of the group shows a refreshing permeability that academia is reluctant to acknowledge, but that is enriching and opens up all kinds of possibilities for experimentation and innovation well beyond the mere notion of play.