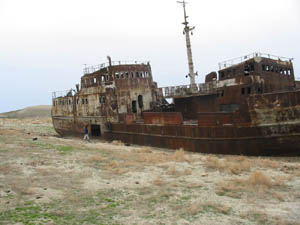 Knight Ridder, America's second largest newspaper company, operator of 32 dailies, has been purchased by McClatchy Co., a smaller newspaper company (reported here in the San Jose Mercury News, one of the papers McClatchy has acquired). Several months ago, Knight Ridder's controlling shareholders, nervous about declining circulation and the increasing dominance of internet news, insisted that the company put itself up for auction. After being sniffed over and ultimately dropped by Gannett Co., the country's largest print news conglomerate, the smaller McClatchy came through with KR's sole bid.
McClatchy's chief exec calls it: "a vote of confidence in the newspaper industry." Or is it — to riff on the cultural environmentalism metaphor — like buying beach front property on the Aral Sea?
For a more hopeful view on the future of news, Jay Rosen (who has not yet commented on the Knight Ridder sale) has an amazing post today on Press Think about online newspapers as "seeders of clouds" and "public squares." Very much worth a read.