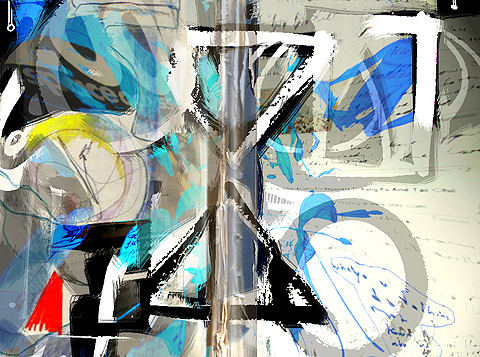 Digital collaboration with me-jade, dou_ble_you and others in the Flickr Library Project
As he recently reflected upon here, Alex Itin has long been working at the border zones of art forms, moving in recent years to the strange intersection of paint and pixels. His blog is one of the most wildly inventive uses of that form, combining blazing low-res images of his paintings with text, photographs, short films, animated GIFs and audio mashups. All of this is done within the constraints of the blog's scroll-like form — a constraint which Alex embraces, even relishes. I sometimes imagine the scroll endlessly emitting from Alex's head like tape from a cash register, a continuous record of his transactions with the world.
ITIN place has been on the web for nearly two years now. In his second year, Alex began to explore new avenues out of the blog, establishing a presence on social media sites like Flickr, YouTube, Vimeo (a classier YouTube) and MySpace. Through these networked rovings, Alex has found a larger audience for his work, attracting new "readers" back to the blog where the various transmitted videos and images are reassembled in the scroll. He's also established relationships with a number of other artists making interesting use of the web, particularly on Flickr and Vimeo. Recently, Alex invited a number of folks from the Flickr community to participate in a collaborative art project — a kind of exquisite corpse game via post. Here's Alex:
The idea is that one artist takes a hardcover from a book, tears out the pages and draws in one half (or half draws in both halves) of the binder/diptyque. In a nod to Ray Johnson, the two books are mailed (swapped) and Each of these will be finished by the other. The results are posted in a Flicker group called (what else) The Library Project. From this group, hopefully a show will be curated for New York, or Paris, or Basel, or Berlin, or wherever anyone wants to show this project. It should be deliciously portable… get working…get collaborating…get reading!
As of this writing, the Library has racked up 278 members and has 205 images in its pool. A few of these are collaborations that have already made their trek across land, sea and air, others are purely digital combinations, while still others are simply book-inspired works submitted in the spirit of the project.

Alex has been documenting the process on his blog, weaving in some of the images. Styles combine, narratives emerge. In one video (excerpted here) he films himself receiving his first half-completed book from a Canadian artist known as driftwould. He unpacks the drawings and lets out a "wow," than a sort of humbled sigh. It's a nice moment of return to the physical world after several years of probing the digital ether.

And here's how that turned out: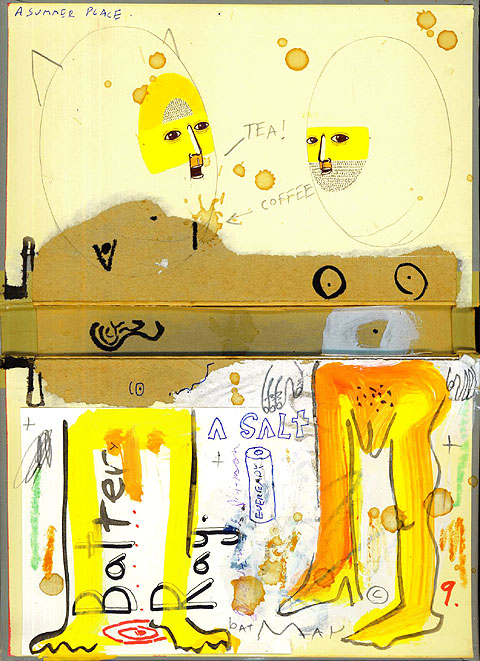 Read Alex's documentation here and here.
Stay tuned for more — the project has only just begun. Plus, we've begun designing a fantastic new interface for Alex's blog archives, which we'll talk more about soon.