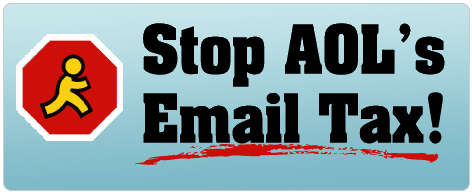 After years as an Internet urban myth, the email tax appears to be close at hand. The New York TImes reports that AOL and Yahoo have partnered with startup Goodmail to start offering guaranteed delivery of mass email to organizations for a fee. Organizations with large email lists can pay to have their email go directly to AOL and Yahoo customers' inboxes, bypassing spam filters. Goodmail claims that they will offer discounts to non-profits.
Moveon.org and the Electronic Frontier Foundation have joined together to create an alliance of nonprofit and public interest organizations to protest AOL's plans. They argue that this two-tiered system will create an economic incentive to decrease investment into AOL's spam filtering in order to encourage mass emailers to use the pay-to-deliver service. They have created an online petition called dearaol.com for people to request that AOL stop these plans. A similar protest to Yahoo who intends to launch this service after AOL is being planned as well. The alliance has created unusual bedfellows, including Gun Owners of America, AFL-CIO, Humane Society of United States and Human Rights Campaign, who are resisting the pressure to use this service.
Part of the leveling power of email is that the marginal cost of another email is effectively zero. By perverting this feature of email, smaller businesses, non-profits, and individuals will once again be put at a disadvantage to large affluent firms. Further, this service will do nothing to reduce spam, rather it is designed to help mass emailers. An AOL spokesman, Nicholas Graham is quoted as saying AOL will earn revenue akin to a "lemonade stand" which further questions by AOL would pursue this plan in the first place. Although the only affected parties will initially be AOL and Yahoo users, it sets a very dangerous precedent that goes against the democratizing spirit of the Internet and digital information.